The Blocked Drain Specialists
With At Your Maintenance, our blocked drain specialists are experts in their field and will be able to help you with any blocked drain problems you may have, be it tree roots, or hair in your shower drain. We guarantee that you'll be back to your normal life as soon as possible and that you'll be happy with our prompt service and affordable costs. Just check out all our excellent Google reviews from happy customers.
Blocked drain repairs are a delicate task. They require the best tools and techniques, and the knowledge of a trained professional.
Depending on the job, we may use an electric drain machine or hydro-jet drain cleaner to shift any clogs in blocked sewers or blocked stormwater drains.
Do not try to unblock the drain on your own because this might cause more damage.
We always start with a thorough investigation, including a CCTV drain inspection. This allows us to know exactly what the problem is before any work begins. With proper preparation, our experienced team can develop a tailor-made solution for your home.

COMPLETE BLOCKED DRAIN REPAIRS
Drainage systems are an important part of our daily life. Most of us don't realise how often we use them until it they aren't functioning.
When a drain becomes blocked or clogged, even simple tasks such as doing dishes, showering or even brushing your teeth can be impacted. Or even worse, you might end up with a flooded house.
One plumbing issue can become a catalyst for further disruption of your home's drainage system, and these things always seem to occur at inconvenient times.

BLOCKED DRAINS SERVICE – HOW IT WORKS
Determine which drain has been blocked:
We are able to identify blocked drains underground in a timely manner and find the precise location of the blockage using our electronic locators. Electronic locators assist with identifying the direction of the pipes as well as the depth of them. This means we can carry out a full drain inspection more effectively and replace or repair damaged or broken pipes with minimum inconvenience, mess, and cost to you.
Identify cause of the blocked drain:
Once we've identified the location of the faulty pipe, we can use CCTV cameras to take a look inside. This way, we can inspect the drain plumbing before each drain cleaning and compare it to the previous service. This allows us to recognise problems like root intrusion, misalignment, or cracks, and make repairs or pipe relining before they become a major issue and begin to interfere with everyday life.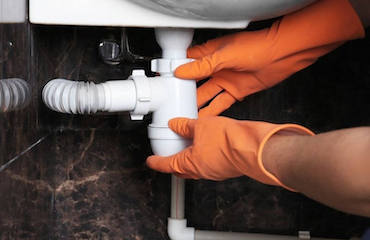 Un-blocking a drain
The waterproof camera we use is connected to a cable and guided into a stormwater drain or sewer pipe so that we can take a look at the condition and come up with the appropriate solution.
BLOCKED DRAIN PREVENTION
There are many ways that you can unclog a drain, but the best way to avoid a blocked drain is to be proactive and take preventive measures. Some of the best ways to prevent a blocked drain include general maintenance such as regularly cleaning your drains and being mindful of what goes down them. Additionally, developing some positive habits like not pouring grease down the drain can go a long way in preventing future issues.

Clear the blocked drain:
Our At Your Maintenance team is experienced in clearing all forms of blocked drains quickly and efficiently. We use a wide variety of tools and equipment to achieve great results. Amongst these are our Hydro jet drain cleaners that use high-pressure water to blast through clogs, buildup, and anything else that's blocking your drain. And because they use water, they're safe for your pipes and won't damage them like some chemical cleaners can. The high pressure water jets literally rip the blockage apart. For simpler tasks, our specialist drain clearers can also use the electric eel. 
If tree roots have forced their way into a pipe, we can seal it up with pipe relining. Pipe relining is a great way to avoid having to replace your entire pipe. By adding a new layer of lining to the inside of the pipe, you create a watertight seal that will prevent future issues. This is especially useful for preventing tree roots from growing into and damaging your pipes.
You may have a blocked drain if you have noticed;
Bad smells coming from your drains

Slow drainage of water after using the shower, bath, or basin

The water level in the toilet is too high or low when flushed or toilet clogged

Gurgling sounds in the pipes. 

The sound of water running when there are no taps on. 

Water pooling around the property, especially near stormwater drains and gutters. 
Contact our team to book an inspection if you suspect a blocked drain on your property, so it doesn't turn into a burst pipe.
Licensed Experts
with years of experience

Parts & Labour

1 year Warranty

2-in-1 Service
Electrical & Plumbing

Fast, reliable & on time

Unbeatable professional service

Offers & Pensioners discounts!
Special Offers
2-for-1 Call Out
We will send a Plumber and an Electrician to you for the single call out of $97 inc GST.
SENIORS DISCOUNT
Simply provide your seniors card to receive a discount on any service.
How to avoid a blocked drain in the future
One of the best ways to prevent blockage is by preventing foreign objects from entering the drainage system. This can be done by ensuring there are grates covering all drains including showers, sinks and bathtubs. Grates help to catch hair and other items from entering the drain and only allow water and smaller materials that aren't prone to causing blockages.
Keeping your gutters and stormwater drains clear at all times by regularly removing leaves and garden debris. Another preventative measure is making sure you never pour waste fat, grease, or oil from cooking down your drain. These wastes are sticky and can easily build up and block the drain, causing bad smells. Instead, let the oil solidify and then dispose of it in the bin. Lastly, be mindful of what you plant near your home. Tree roots can cause blocked drains, so avoid planting any large trees or shrubs too close to your house.
Can I unblock a drain myself?
No, we don't recommend attempting to do repairs yourself if you have no prior training. If your drain is blocked and you can see the obstruction, like hair, dirt, or soap buildup, there are some simple steps you can follow to unblock it. However, if you can't find the cause of the blockage, then it's time to contact a drain specialist to avoid any further damage and expense.
Electrical
Maintenance, commercial and residential. Licensed and insured. Quality solutions for all your electrical needs.
Plumbing
Repairs and new installs. We offer all forms of plumbing for residential, commercial, and strata properties. Our plumbing expertise stems from a wealth of experience gathered from past projects.
Appliances
It's very important to get your appliances inspected and serviced as soon as possible before they become a safety concern.
testimonials
Claire Matthews
2023-10-14
At Your Maintenance are my landlord's chosen maintenance team and they've been highly professional and responsive. I've had to leave instructions and keys but they have completed jobs to an excellent standard every time whilst keeping home security a priority. I'd highly recommend this company.
Qing Feng Chan
2023-10-10
Good
Just excellence - communications, timing & outcomes outstanding.
Benedict Deane-Johns
2023-09-03
Good work and service.
Quick, friendly and efficient!
Hi great service, quick and efficient. What a lovely guy
Contact Us.
We take pride in the expertise on many projects
throughout Melbourne.
At Your Maintenance
PLUMBING & ELECTRICAL BAYSIDE
1A Weeroona street
Hampton VIC 3188
[email protected]
(03) 9020 4633
OPENING HOURS
MON – FRI : 10.00 AM – 4.00 PM
SAT + SUN : CLOSED
We take care of all your
electrical, plumbing & appliance maintenance.
Our Promise
✔ Always prompt & reliable
✔ Licensed & insured
✔ Always clean & professional
✔ Guaranteed workmanship
explore our services
At Your Maintenance is dedicated to all of your electrical and plumbing needs.

We pride ourselves on quality service and workmanship. All our electricians are fully licensed and comply with Workplace Health & Safety standards. We have strict quality controls.

Our team is known for its exceptional communication. We help you through those stressful kitchen renovations, sort out the tree roots causing your blocked drains, inspect your gas fitting for a gas leak, and give advice on your hot water system.
Plumbing Services include:
Basin Repairs and Installation
Traps and Wastes
Water & Gas Pipe work

Appliances
Do you need your appliances serviced, replaced or installed? We service your appliances to stop any issues in their tracks.
Our Appliance work includes:
Service Cooktops
Supply & Replace Electric Cook Tops
Service Hot Water Units